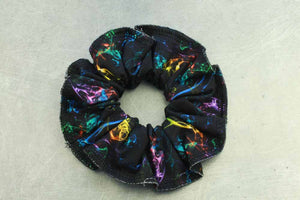 We have 10 in stock.
Up In Smoke Scrunchies
Up In Smoke Scrunchies
Are you tired of low-quality scrunchies that are mass-produced in sweatshops? Our Up In Smoke Scrunchies are perfect for you then. Made In The USA From quality 100% cotton our scrunchies are fun and stylish and the perfect accessory to match your Up In Smoke face mask.
Take your style to a new level today with an Up In Smoke Scrunchie & a matching face mask.
All our Heartbeat Clothing Up In Smoke Scrunchies are made of premium, 100% cotton woven fabric. 
Every scrunchie is hand-made with love and attention to detail right here in the USA. You will feel good about supporting a LOCAL SMALL BUSINESS! We'll feel good about supporting your needs in a fast and affordable way!
 If for any reason there is a serious issue with fit or your item 
please call or email us
. We will review any concerns on a case-by-case basis and make things right.
Well, that's a silly question but I'll bite.
IT'S THE RIGHT THING TO DO
!
Fabric can be scarce so please select the style you wish to buy today!