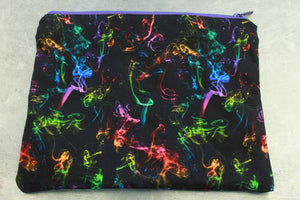 We have 12 in stock.
Up In Smoke Face Mask Carrying Bag
Up In Smoke Face Mask Carrying Bag
Are you tired of storing away your face mask and it gets covered with dirt, animal hair, or pocket lint? Our Face mask carrying bags are perfect for you then. Made In The USA from quality 100% cotton our carrying bags are fun and stylish and the perfect accessory to match your Up In Smoke Face Mask.
Take your style to a new level today with an Up In Smoke Face Mask, matching Scrunchie & face mask carrying bag today.
Every carrying bag is hand-made with love and attention to detail right here in the USA. You will feel good about supporting a LOCAL SMALL BUSINESS! We'll feel good about supporting your needs in a fast and affordable way!
If for any reason there is an issue with your items 
please call or email us
. We will review any concerns on a case-by-case basis and make things right.
Well, that's a silly question but I'll bite.
IT'S THE RIGHT THING TO DO
!
Fabric can be scarce so please select the style you wish to buy today!