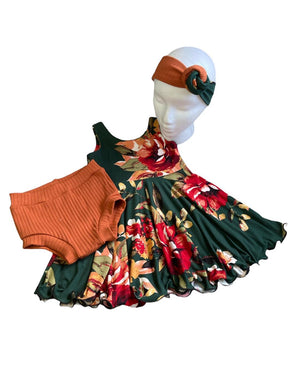 We have 1 in stock.
Twirly Dress, Bummies and Headband Set - Size 3T
This super fun and comfy twirly dress is made in beautiful double brushed polyester fabric, which is very stretchy and super soft, making it sure to please any little one who wears it! The bummies are made in high quality cotton lycra ribbed knit for comfort. 
This set is a size 3T!
Dress pattern is the Sahara Play Dress by Bella Sunshine Designs 
Bummies pattern is the Brooklyn Bummies by Peanut Patterns